Our members are teachers, students, professionals, parents, and anyone that supports
STEM Education in Ohio!
Your Membership helps to support programming
across the state.
The Ohio Academy of Science is a membership based, volunteer-driven, not-for-profit organization. Over 5,000 students participate in Academy programming each year.
The Academy is the leading organization in Ohio to foster curiosity, discovery, innovation, and problem-solving skills in Ohio. The Academy conducts an annual meeting and science days, and publishes an international, multidisciplinary, scientific journal, The Ohio Journal of Science.
Already a Member? Click here to renew or reset your password!
Mark Peeples, PhD
I am a virologist and have been studying respiratory syncytial virus (RSV) my entire career. Our lab is currently working on a vaccine for children to protect them from disease caused by respiratory syncytial virus (RSV). We use virological and biochemical tools developed in laboratory studies of RSV. Behind me are human cells infected with RSV that we modified to produce either a red or green fluorescent protein. These markers allow us to compare infection and spread of two strains of RSV in cultured cells. We are using them to determine why, of the 16 genotypes of RSV that have evolved over the past 50 years, two have come to dominate everywhere.
A few months after COVID19 appeared, we began working on SARS-CoV-2, another respiratory virus, using tools and insights borrowed from our RSV work. With colleagues at Ohio State, we have developed experimental vaccines that express the Spike protein with the goal of making a much cheaper vaccine that will protect for a longer time. Our early versions have worked very well, protecting mice and hamsters from COVID disease. We are currently continuing our efforts to optimize these vaccines.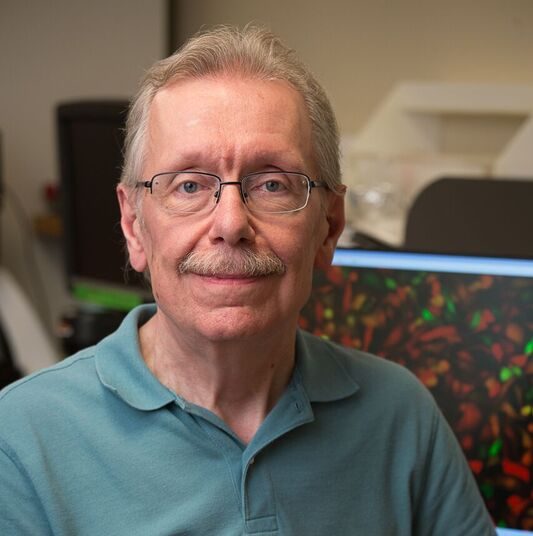 Our traditional memberships that are available for individual scientists, teachers, retired scientists, and students.
Benefits of an Individual Membership:
Discount ticket to COSI

Submitting manuscripts to The Ohio Journal of Science with no page charge

Access to the Academy's online network

Reduced price on OAS merchandise
A new level of membership that allows Universities, Colleges, and Businesses to join as an Institution. All students, faculty, or employees from Institutional Members are able to join the Academy at no cost in addition to the Institution receiving additional benefits. Click here to download the Institutional Member form.
Benefits of an Institutional Membership:
No page charges to publish in The Ohio Journal of Science

Advertising on our Sponsors and Institutional Members' page (logos for Institutional Members)

Exhibit table at State Science Day

Deeply discounted ads in an OAS publications (OJS, AM program, SSD program)

Individuals (students, faculty, or employees) at those Institutions will receive a free membership to The Ohio Academy of Science.
THANK YOU TO OUR INSTITUTIONAL MEMBERS