Slide
American Junior Academy of Science
Each year, The Ohio Academy of Science recognizes and rewards pre-college, student researchers as Melvin Scholars. These students (Melvin Scholars) will represent Ohio at the national American Junior Academy of Science (AJAS) meeting. This meeting is held in conjunction with the American Association for the Advancement of Science (AAAS) meeting.  AJAS provides Ohio students an opportunity to interact with other student researchers from across the country as well as scientific professionals from around the world.
In addition to interacting with student scientists and professionals, there are activities for the students to participate in throughout the week. These activities include interactive laboratory experiences, field trips, plenary lectures, and small group meetings with world renowned scientists and engineers.
AJAS is very unique because it is not a competition, rather it is a conference that celebrates student success by introducing them to the social, cultural, intellectual, and professional aspects of STEM professions.
Melvin Scholars are selected based upon the quality of their research presented at the Buckeye Science & Engineering Fair.
CONGRATULATIONS TO 2020 MELVIN SCHOLARS

Please help us in congratulating the most recent students named as Melvin Scholars!
Cyril Andrews – University School
Sraavya Anne – Mayfield High School
Ryan Ballou – Carroll High School
Anjali Dhanekula – Hathaway Brown School
Kaitlyn Greppin – Hathaway Brown School
Isabel Hsieh  – Hathaway Brown School
Zuha Jaffar – Hathaway Brown School
Jonathan Jang – University School
Caroline Jung – Hathaway Brown School
Toussaint Miller – University School
Nathan Mu– University School
Devi Dheekshita Nelakurti – Metro Early College HS
Michelle Park – Solon High School
Arvind Prasad– Sycamore High School
Emily Qian – Hathaway Brown School
Sunay Rastogi – University School
Kaisal Shah – Hathaway Brown School
Avinash Singh – Sylvania Northview High School
Sohum Kapadia – University School
Kimberly Lin – Hathaway Brown School
Julia Madureira – Hathaway Brown
Ian Swain – University School
Kailey Takaoka – Hathaway Brown School
Angela Yu – Hathaway Brown School
HOW DO I BECOME A MELVIN SCHOLAR
Each Spring, to be considered for a Melvin Scholar, one must:
have an abstract accepted into the OAS Annual Meeting
attend the entire meeting and

complete a Melvin Scholar Report.
Melvin reports shall not exceed 10 typewritten pages with no additional attachments permitted. Clear, concise writing is expected. Number all pages except for the cover sheet/abstract (which is page 1). Electronic versions (use your last name as the file name) must contain the entire report in a single, Adobe PDF file. Multiple files will not be accepted.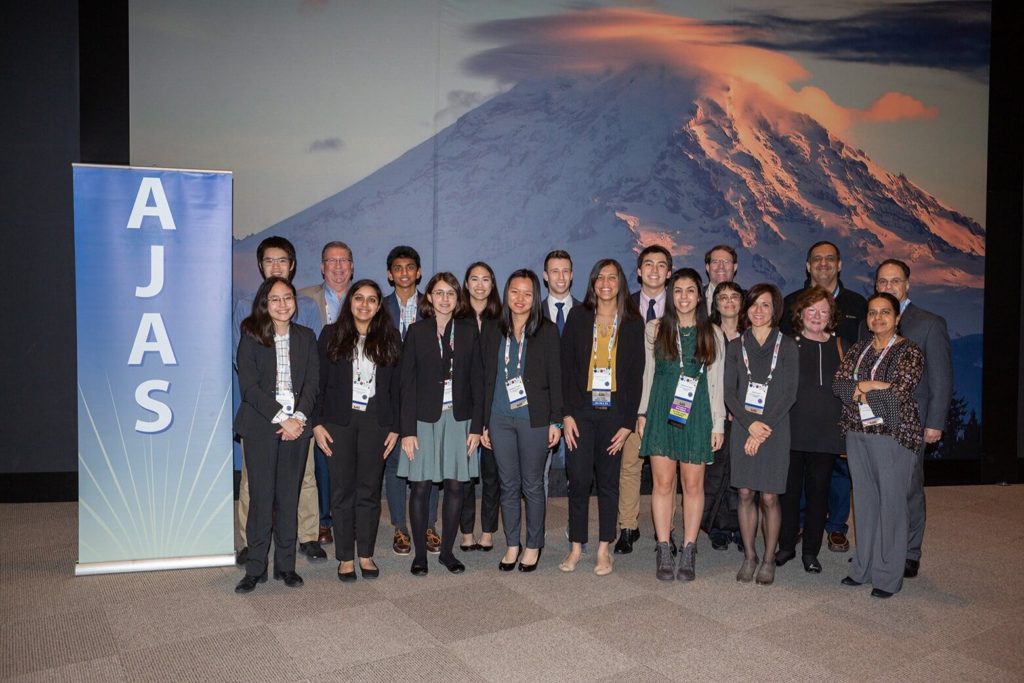 DIFFERENCE BETWEEN A TRI-FOLD AND POSTER?

The OAS Annual Meeting is a scientific meeting; therefore, we expect students to present as they would at a professional meeting. This is done by using a scientific poster. It can be printed on a large sheet of paper (from places such as FedEx-Kinkos), or an easier, cheaper option, is to use 8.5″ x 11″ sheets of paper.
OSU has a good site to walk students through how to develop a scientific poster: http://www.undergraduateresearch.osu.edu/nutsandbolts/posters/